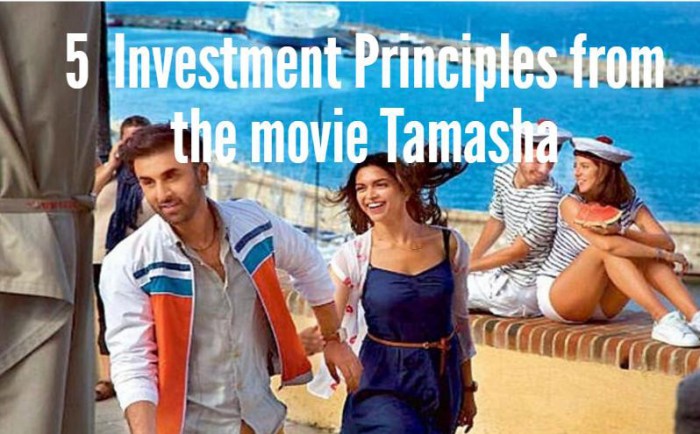 There are lots of movies which teach us many lessons, but we need to have an open mind to understand them and incorporate them into our daily life.
Some of the movies like Taare Zameen Par, 3 idiots, etc. have deep messages and a lot to learn from them.
Yesterday I went to see the Hindi movie Tamasha and really liked the messages the movie conveys.
The movie has a good story written and directed by Imtiaz Ali, superb acting by Ranbir Kapoor and Deepika Padukone and mind-boggling messages.
The following are the investment principles for all aspiring investors from the movie Tamasha:
1.Follow your passion-
You will always be happy and successful in life if you simply follow your passion.
So before making your career decision, simply close your eyes and think what is that one thing you always wanted to do if earning money was not a factor.
Most of us fail to continue with our passion just because we fear whether we will be successful or not and hence opt for a safe career.
Just around 0.01% of the population go for their passion and they become role model for others.
If Lata Mangeshkar & Sachin Tendulkar would have thought in a similar way, then they would not be in a position as they are today.
The character of Ved (Ranbir Kapoor) had a passion for storytelling, but he couldn't continue with it due to his dad's pressure.
But when Tara (Deepika) poked his mind about his character of Don, he just couldn't resist it and went through a mental trauma.
But finally, he was able to make through it and become successful by following his passion.
Similarly, if you have a passion to become a successful investor and love to read investment principles and evaluate the value of companies, then simply go for it.
Many of your close ones would try to influence you that it's just a gamble and there is no guarantee of success.
But If you are really passionate about it, just go ahead and prepare yourself to face the challenges